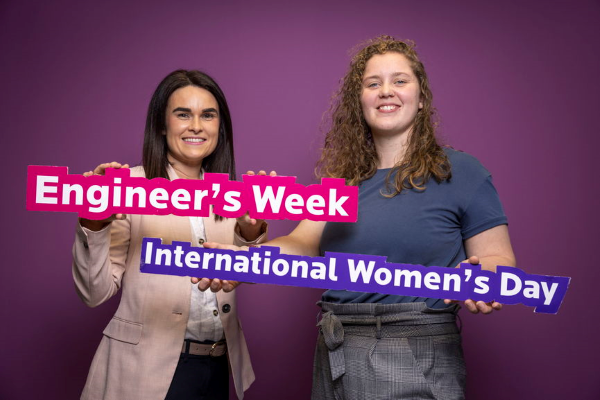 Engineer's Week is a celebration of the world of engineering in Ireland and runs from 5-11 March. International Women's Day (March 8) is a global day celebrating the social, economic, cultural and political achievements of women. As a leading developer and operator of renewable energy across the island of Ireland we are proud to be profiling some of our team working on innovative projects that will help Ireland meet our climate action targets.
Ciara Moane, Energia's Energy Transition Manager, graduated from Queen's University Belfast in 2004 after studying Economics. Having worked in the company for almost 2 decades Ciara explains what she enjoys most about her role, "I have been fortunate to work in a number of different roles within the organisation. In my current role as Energy Transition Manager, I love that I am working on projects that will help to decarbonise the energy system across the island of Ireland and help us achieve our climate action targets."
Speaking on Energia Group's goal of providing a more sustainable energy future for Ireland, Ciara has highlighted the importance of collaboration, saying, "The era of siloed thinking in the energy industry is long gone. If we are to effectively deliver on the ambitious targets set out in the Climate Action Plan then we need to harness the power of partnerships.
Encouraging young people to explore the possibilities of a career in the energy sector, Ciara said, "I work on a highly motivated multidisciplinary team and together we are progressing onshore and offshore wind farms, solar farms, battery storage solutions and green hydrogen production. If you are interested in solving some of the world's largest challenges then a career in the energy sector is for you."
Rebecca Draper, joined Ciara's team in 2022 and she is a participant in Energia Group's Engineering Graduate Programme. Speaking about her role, Rebecca, a native of West Cork and graduate from Munster Technological University having studied Sustainable Energy Engineering said, "The variety that Energia Group's graduate programme offers is fantastic and has afforded me the opportunity to gain experience across a range of different projects and to learn from a broad team of engineering experts."
Rebecca worked as part of the offshore team who are progressing 2 significant renewable energy offshore projects that together could generate enough clean electricity to power more than 1 million homes and businesses prior to joining the energy transition team.
Speaking about what might motivate young people to choose a career in engineering she said, "If you are passionate about our environment like I am and have an interest in climate action and decarbonisation projects then a career in engineering particularly in the renewable energy sector could be for you. Here at Energia Group the graduate programme is fantastic and a brilliant way of launching your career in the sector."
Energia Group is building an inclusive company culture that leverages diversity and supports professional development opportunities for women. In 2021 the Group signed up to Business in the Community's Elevate pledge and we launched our Women in Energy Network as part of the company's broader Diversity and Inclusion programme. In 2022 the Group introduced two women's health policies, Pregnancy Loss and Fertility Treatment and a Managers guidance document to support women through the Menopause forming part of the company's broader strategy of supporting all employees through every life stage and fostering a culture of inclusion. Energia Group recently announced a partnership with Riley to provide free period care products to employees across all their offices. The partnership between the two organisations aligns to Energia Group's commitment to provide a more inclusive working environment for women and will benefit approximately 500 employees. This measure is one of a number being implemented by the Group's as it focuses on gender related policies aligned to the UN Sustainable Development Goals (SDGs), specifically SDG 8 on Decent Work & Economic Growth.
If you would like to join our team, please visit https://energiagroup.com/careers