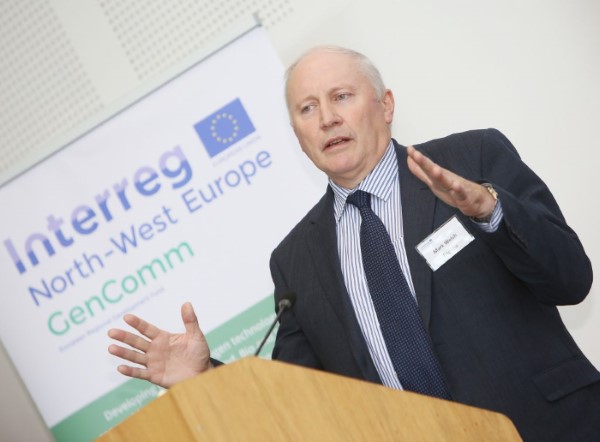 Can you tell us a little about your role at Energia?
From 2004 I was the Energy Services Manager, the role included; setting up and delivery of all online information, programmes and products offered by Energy Services. The main aim is to ensure these services deliver real energy savings, bring benefits to the business sector, comply with environmental legislation and compliments Energia's corporate strategy. Some of the key areas included:
Energy Efficiency - Delivery of all products and offerings for Energia
NISEP Grant Scheme NI;
Energy Efficiency Obligation (EEPO) Scheme RoI;
Development of the Smart Home low carbon Domestic Home including Solar and Battery Storage solutions
Development of solutions to increase Energia's renewable portfolio including; Energy Storage (Battery & Hydrogen), Distributed Solar, Anaerobic Digester Solutions, DSU and System Services (DS3).
How long have you been with Energia and can you tell us a little bit about how you started?
I have been with Energia since the company started in 1999 when I was seconded from NIE Supply (now Power NI). I have been in the Electricity Industry for almost 43 years where my engineering career has touched on most areas of the Electricity Sector. Commencing in Belfast West Power Station I moved to Northern Ireland Electricity (NIE), Metering, Electrical Design & Installation and Terms of Supply before moving to NIE Supply, Energy Marketing, Industrial Sales and Key Account Management then on to Energia as a KAM before taking up the role as Energy Services Manager
How have you found working from home this last year? Has your home routine evolved, have you enjoyed it or disliked anything etc
Working from home has been OK, I am sure like most people I have missed the interaction and discussion with colleagues and definitely do not miss the 50 minute start stop journey to and from the office
What do you find is the best thing about working in Energy Services?
This is an easy one to answer it was working with all my colleagues in Energy Services. I would always say that I was the most blessed manager in Energia because the staff working in Energy Services are second to none. If you asked them to go the extra mile they went two, the quality of their work and support to me and the department was exceptional, they lived and believed in what we were doing and this can be seen in the innovative products and services we provide our customers and staff. They are a model of working together.
Outside of Energia and the world of energy, what do you like to do in your spare time?
I am involved in the local church and have for the last 35 years been leading our Youth Clubs where over three sessions we can have 130 young people coming through our doors each week. I am also involved in Street Pastors where over the weekend we have Teams out walking our streets and parks trying to ensure our young people are safe and we are there to help when things go wrong. I also have a special love for the people of Uganda and have been over with a small school supporting their work with young 'Street Kids'
What, in your expert opinion, is the most impactful way for consumers to reduce their CO2 emissions?
As a Chartered Energy Manager I would say this however I am convinced that Energy efficiency is the foundation to reach net zero and it is something where we can all play our part. Yes Government and Utilities can deliver on the infrastructure but all of us can be involved by embracing behaviour change and promoting energy efficiency. Investing in modern and digital equipment ensuring you have the right tools to have an accurate heating control and management system together with a well-insulated building are key drivers we can all be part off to nett zero.
What do you find most challenging in your role as Energy Services Manager?
Energy Services is a key pillar for our business and society but it is a hard sell; who would want a business where you are actively trying to reduce your income, so trying to keep energy efficiency relevant is a challenge but a challenge we should embrace because net zero is key to all our future
What has been your favourite project to work on to date at Energia and why?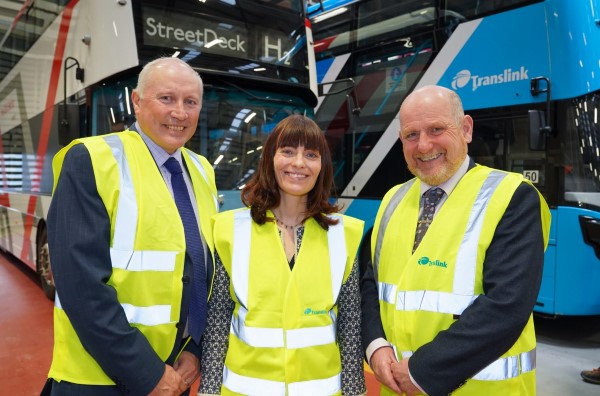 Pictured at the Translink media launch announcing news of Belfas'ts first ever hydrogen powered double decker buses are from left Mark Welsh, Energia Energy Services Manager, Nichola Mallon, Minister for Infrastructure, (NI) and Paul McCormack, GenComm Programme Manager
I have been involved in a number of good projects including; the first Online billing and data system (Now energia online), I had a small part to play in the development of our current billing system but the current Hydrogen Project has been the most challenging and favourite project. Not only does hydrogen production give us the opportunity to increase electricity sales as we supply to the transport and heating markets but it will, help deliver on the nett zero targets, the best part of the project is the people who has been involved, the expertise in Energia is World Class
What are you most proud of in your career in the energy sector to date?
Being a small part of the Energia and PNI Team that has made a difference, the growth in customer numbers, renewable generation, embracing of new technologies together with world class IT and billing systems has been incredible.
Thank you so much Mark for such an interesting Q & A! Not only have you brought so much to energy services at Energia but it's been lovely to read about your voluneteer work! It's been a pleasure learning from you and we wish you all the best in your retirement.
From all the team at Energia Group
#PositiveEnergy #PositivePeople #EnergiaGroup