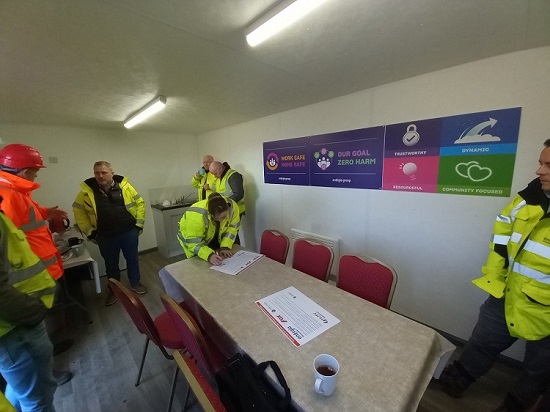 Energia Renewables Construction Team held a Senior Leadership EHS Tour on Tuesday 23rd Oct 2023 on our Drumlins Park Windfarm and Lislea 110kV Substation projects in Co. Monaghan.
The aim of this tour was to reaffirm commitment to Health & Safety from our senior management and our contractor's senior management to our teams working on site.
Attending on the day was:
Brian Linton – Energia Renewables Technical Director
Pat Tierney – Energia Renewables Head of Construction
Mike Collins – H&MV EHSQ Director
Finbarr Fox – Fox Builders & Engineers Ltd.
Senior leaders carried out an inspection of the sites and then delivered a talk to all operatives working on the projects from H&MV, Fox Builders & Engineers Ltd and GE Vernova.
The talk covered critical risks such as Working at Height, Lifting Operations, Movement of heavy plant & Machinery, while also stressing the importance of looking out for one another on site, taking extra time to ensure all aspects of the task have been planned out and all controls are in place.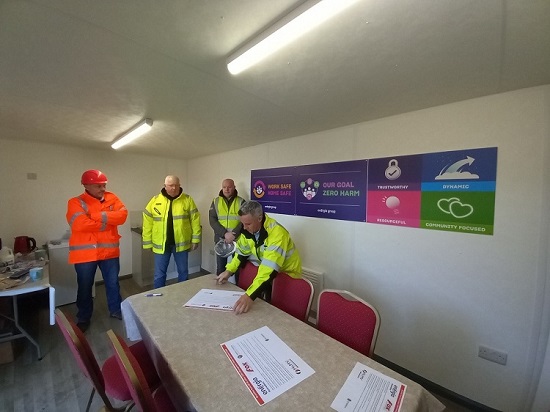 A Commitment pledge to EHS was then signed by senior leaders and project management.
It is of the upmost importance to Energia that all our contractor's staff on all our sites return home safe to their families and loved ones at the end of each day.
#Work Safe/Home Safe #Our Goal/Zero Harm