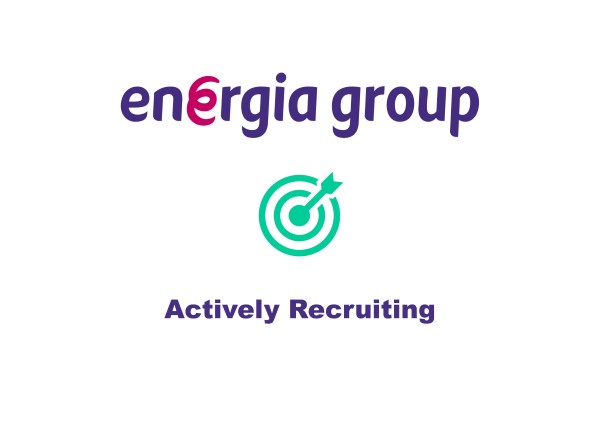 If you or someone you know is keen to kickstart or grow in a career filled with innovation, then there is no better time than the present to join Energia Group.
There are some fantastic opportunities to apply for now at Energia Group, Energia & Power NI on a permanent or fixed term contract role basis.
Teams at Energia Group are diverse, cultural and talented, covering all areas of the product development. We also work with best in class partners and agencies such as Accenture and Deloitte who provide further opportunity for team success and an engaging working experience.
We are adpoting a new way of working and using SCRUM and Agile methodologies within product development. So if you're interested in fast paced environments with a fix and improve forward approach, you would be a great fit!
Some of the roles we want to highlight are:
Technical Analyst (Web Apps)
1 x Permanent role
1 x 12 month FTC role
We are currently recruiting for Technical Analysts on a permanent and fixed term contract to join our Web Apps team within the Technology and Innovation department. We are looking for talented and experienced IT professionals with a strong foundation in application support, who can contribute to the organisation's success. Find out more here.
Technical Analyst
This exciting Technical Analyst position sits within Energia Group Technology & Innovation. You will join the Service Delivery team, reporting to the Service Delivery Manager. You will also play a key role in working closely with our Managed Service Partner. Find out more here.
Business Analysts (T&I)
2 x Permanent roles
4 x FTC roles
We are currently looking for a number of permanent and fixed term contracts for up to 18 months to join our Technology and Innovation team. The role will report to the Senior Business Analyst as part of the Projects team and will be involved in critical projects across the Energia and Power NI businesses. Find out more here.
Senior Data Scientist
Energia Group are looking for a Senior Data Scientist to join our growing team of data analytics experts to manage the processes and people responsible for accurate data collection, processing, modelling and analysis. The ideal candidate will identify solutions in sprawling data sets and will have the business mindset to convert insights into strategic opportunities for our company. Find out more here.
Digital UX Specialist
As a UX Specialist you will work closely with our web development and creative agencies to convert customer problems and business requirements into elegant design solutions that have a positive impact on our customers. Find out more here.
Remote Working
Like most businesses, Energia Group is doing the very best to adapt and make flexible working the new way of working for our employees. Some roles come with hybrid options to work remotely a few days a week, with a couple days in the office. Whereas some other roles may require onsite or in-office attendance more often or always. Please refer to each specific job spec carefully for more information on remote/office working.
Why join Energia Group?
Leading the energy industry in the Republic of Ireland and Northern Ireland, Energia Group operate in three separate areas: Renewables, Flexible Generation and Customer Solutions. With an annual turnover of circa €2 Billion, Energia Group is one of Ireland's top businesses. Our industry is in a constant state of change and Energia Group, need exceptional people like you to help us deliver the future of energy. We support innovators, encourage idea generators, and make it our priority to listen to our team. In return, our people act with honesty, integrity, and respect. Each member of our team plays a vital role within the group and contributes to our overall success in becoming a modern customer centric utility.
So… are you ready to switch on your career with Ireland's leading energy provider?