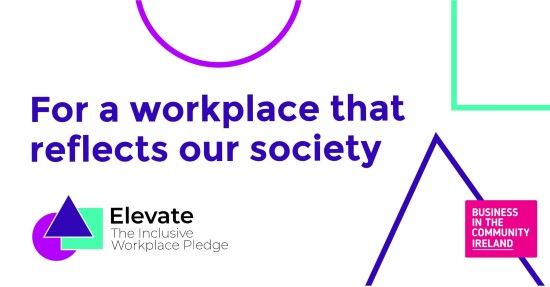 Energia Group is extremely proud to sign up and commit to Business In The Community Ireland's new ELEVATE pledge.
The pledge supports businesses to build more inclusive workplaces. The ultimate ambition of this initiative is for a workforce that is representative of all members of Irish society.
By signing up to this Pledge, Irish businesses, including Energia Group, can demonstrate their commitment to building truly inclusive workplaces, and supporting the broader values of inclusion, equality and opportunity in Irish society.
Energia Group is one of the first 45 companies in Ireland to sign up. You can see all companies and learn more about the pledge in the official Press Release here.
The Pledge, which must be signed by the CEO, asks companies to commit to profiling their diversity and to take action to embed inclusion. BITCI will publish a progress report on an annual basis with the first report due in mid-2022. Specifically, signatories must:
Provide a diversity profile data of their own workforce starting with their senior management team.
Take at least one action to improve inclusion within own workforce and publish this action and the expected outcome.
Measure impact of actions and be accountable for progress made/or not and report on same.
Concrete actions already committed to by the signatories include:
Offering a range of internship and apprenticeship programmes to attract and support diverse talent
Establish 50:50 gender balance in appointments to senior management and leadership by the end of 2021
Introduce mandatory Race Awareness Learning for all employees
Review job descriptions to eliminate unintended bias
Develop a pathways to employment programme to attract entry level staff facing barriers to employment
Undertaking a Gender Pay Gap analysis
Introduce mandatory Unconscious Bias Training to all People Managers and HR Practitioners
Partner with a DEIS schools to promote new job opportunities and offer TY placements
Roll out Disability Confidence Training
Promotion of family leave policies
Commence an internship programme to support people with intellectual disabilities to access work placements, launch a 'spotlight on' campaign to raise awareness of our personnel who are from diverse cultures, heritage and ethnic backgrounds, particularly those who have progressed and developed internally within the business.
Learn more about the ELEVATE pledge here.
#ElevatePledge #PositiveWorkplace #EnergiaGroup