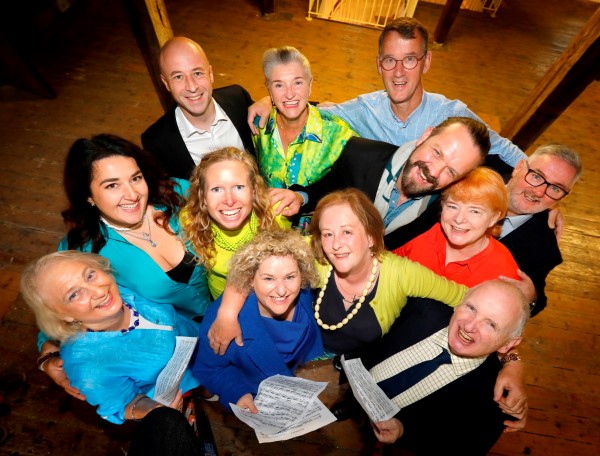 The project will see members of the Wexford community take to the stage alongside a professional cast, in a new version of Giacomo Puccini's Gianni Schicchi, which is set in Wexford.
Over the past several months the 13 members of the community cast have been preparing to perform alongside a professional cast with dialogue revised and updated in a new English version by Timothy Knapman. They have taken part in workshops to develop their vocal and acting skills with associate directors Elizabeth Dwral and Pete McCamley (who will also play the role of the doctor).
Taking place in the Grain Store, this much-loved opera will be presented as an immersive performance and the audience will move with the action around the venue, experiencing the opera by being a part of it themselves.
While supporting this project, Energia Group continues to demonstrate its commitment to local communities and the Group's dedication to achieving a key sustainability goal, that being to invest in the sustainability and wellbeing of the Wexford community.
Commenting on the importance of the partnership with Wexford Opera, Derek Scully, who is Head of Corporate Affairs at Energia group noted, ''We are thrilled to partner with Wexford Festival Opera for a second year and to sponsor the new Community Opera project that speaks to the history and importance of the festival to the people of Wexford. At Energia Group we recognise that sustainability extends beyond the renewable electricity we generate and supply to customers, it also includes our commitment to fostering vibrant communities where the arts play a pivotal role''.
Paul Cleary who is Chairman of Wexford Festival Opera added, '' We are delighted to continue our partnership with Energia Group for a second year in 2023. Energia Group are sponsoring a new important initiative within our programme, our Community Opera. This support further showcases Energia Group's commitment and investment in the Wexford community, and we hope this partnership will continue to flourish and strengthen over time as we develop this new vital element of Wexford Festival Opera."
The performance of Gianni Schicchi will take place on 24, 27, 30 October and 3, 4 November 2023. Further information is available at wexfordopera.com.