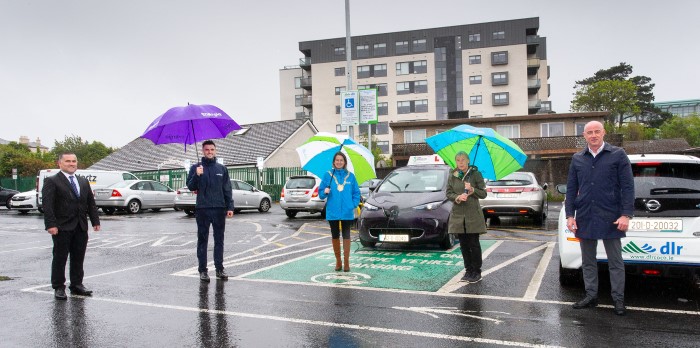 L-R Aidan Blighe, Director of Services, Dún Laoghaire-Rathdown County Council, Gavin Hickey, Development Engineer, Energia, Councillor Úna Power, Cathaoirleach of Dún Laoghaire-Rathdown County Council, Dolores Murphy, Access & Housing Support Services, Irish Wheelchair Association.Robert Burns, Director of Services, Dún Laoghaire-Rathdown County Council.
Photo credit: Peter Cavanagh Photography
Energia Group has joined forces with Char.gy to offer an on-street smart charging solution using bollard and lamppost attached charge points. The service is simple to use, all you need is your electric car, charging cable and your smartphone.
The first of these charge points was installed this week at Dundrum Town Centre in an accessible parking bay, allowing disabled EV users to be the first to take advantage of this smart and convenient service.
The new disabled pilot bay is located within Dun Laoghaire-Rathdown's carpark on the Sandyford Road. Designed to full accessible standards the bay can be used by drivers when charging their Electric/Hybrid vehicle, once they have displayed a valid disabled parking permit (the blue badge).
Dun Laoghaire Rathdown Cathaoirleach Una Power said:
"We are delighted to install the first disabled/accessible electric charging bay in Ireland, in partnership with Char.gy and Energia and are committed to extending our range of accessible infrastructure across the County and universal public realm design choices. We are asking for feedback from the disability sector over the coming months and will explore other key locations across the county".
The Cathaoirleach thanked Dolores Murphy (recently retired) from the Irish Wheelchair Association (IWA) for her assistance and guidance and John Nolan, (recently deceased) Chair of the DLR Disability & Consultation Group for his input also.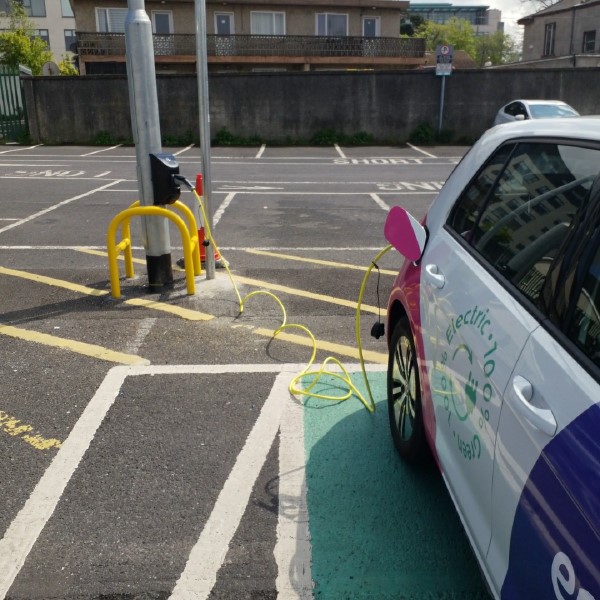 Gavin Hickey the project manager at Energia said:
"Energia and Char.gy have joined forces to offer an on-street smart charging solution for electric vehicles. Our charge points can be attached to lampposts or as standalone bollards to offer easy, cost effective, open-access charging. We are delighted to be involved in this project with DLR installing Ireland's first lamppost attached EV charge point and look forward to offering this convenient means of on-street charging as a vital step towards reducing vehicle emissions across Ireland."
Richard Stobart of Char.gy commented:
"I am excited to see the first unit on the streets of Ireland. It is great to see these being added to our portfolio of units already available in the UK. We are looking forward to growing our relationship with Energia and seeing more of our charge points on the streets of Ireland."
DLR Traffic Section designed both the bay and related signage and Energia & Char.gy installed the lamppost smart charge point.
The launch took place on Global Accessibility Awareness day which focuses on digital access and inclusion.