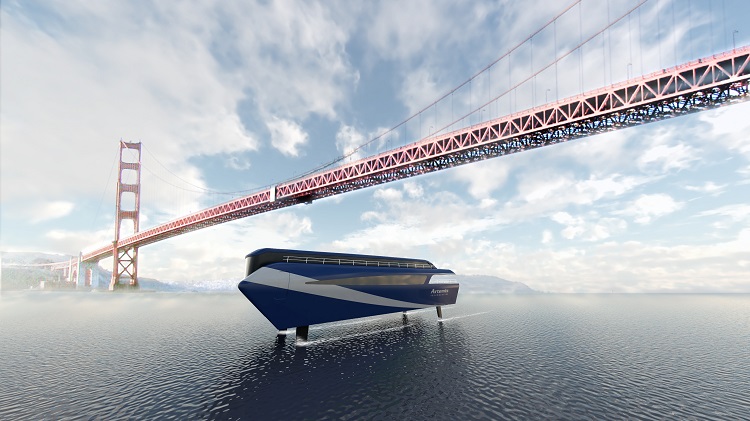 A Belfast Maritime Consortium led by Artemis Technologies has won a £33 million UK Government innovation grant to develop zero emissions ferries in the city, that will transform the future of maritime transport. With further investment from consortium partners, the total project investment will reach close to £60m over the next four years, creating an initial 125 research and development jobs, and leading to more than 1,000 in the region over the next 10 years.
The 13-partner syndicate - which is a mix of established and young companies, including Belfast Harbour and Bombardier, academia and local public bodies - is the only Northern Irish or maritime recipient of the UK Research and Innovation flagship Strength in Places Fund.
Energia Group will be the green energy supplier for the project. Corporate Development Manager, David Macartney, commented; "Energia Group is delighted to be the energy partner responsible for the installation of the electric hydrofoil charging infrastructure.
"Looking ahead, we believe renewable hydrogen will play a key role in the decarbonisation of maritime transport, with zero-carbon hydrogen fuel cells providing greater range for the electric hydrofoil ferry.
"This exciting project will boost Northern Ireland's growing expertise in zero-emission transport and build on our partnership with Translink and Wrightbus to trial double-decker buses, fuelled by renewable hydrogen, in Belfast."
Welcoming the announcement, First Minister Arlene Foster said: "We are all proud of Belfast's maritime and shipbuilding heritage. However, it is even more exciting to look towards a future which can see Northern Ireland once again leading the way with world-class manufacturing and cutting-edge technology.

I pay tribute to all those involved in the project which demonstrates so clearly the benefits of collaboration between business, academia and government at all levels. This investment can support economic growth locally, but its impact could be felt globally through solutions to more sustainable transport."
A spin-off from the America's Cup sailing team, Artemis Racing, Artemis Technologies is led by double Olympic gold medallist Iain Percy OBE. Iain commented; "Our concept for an electric hydrofoil propulsion system is totally unique and will enable vessels of the future to operate with up to 90% less energy, and to produce zero emissions during operation.
"As cities across the world seek ways to reduce pollution and ease traffic congestion, the transformative vessels to be produced right here in Belfast, will have a global role to play in delivering the connected maritime transport system of the future.
"This investment from the UKRI Strength in Places Fund is a major endorsement of what we are trying to achieve, which we strongly believe will see Northern Ireland at the centre of the revolution in water transport."
The Belfast consortium brings together a range of private sector companies, universities, and public bodies, including Belfast Harbour, Bombardier Belfast, Northern Ireland Advanced Composites Engineering (NIACE), Creative Composites, Catalyst, Invest Northern Ireland, Ulster University, Belfast Met, Queen's University, Belfast, Ards and North Down Borough Council, and Belfast City Council.
Find out more about this inspirational project in Artemis Technologies video below.