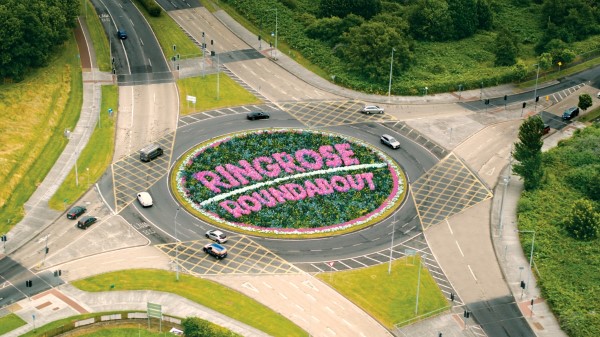 Author: Amy O'Shaughnessy, Head of Brand
Like most people reading this, I try to do my bit for sustainability. We recycle at home and at work (most of the time!), occasionally car-pool or take the bus and try to avoid fast fashion and single use plastic. So far so smug.
When our creative agency Core first mentioned the idea of sustainable ad production for our new campaign to support the Irish Rugby Team, my first thought was well that's going to cost way more and probably be a pain in the neck. Visions of us all pedalling bikes to keep a generator going flashed before my eyes.
But we are Energia Group, a leader in renewable energy generation and a business at the forefront of delivering Ireland's climate action agenda with a massive focus on ESG. So I figured the Marketing team should step up and play our part.
Enter Clare O'Reilly, our Client Manager in Core, who has just finished her Masters in Creative and Commercial Communications with a focus on sustainable ad production. Clare engaged with AdGreen for guidance. They provide a calculator which helps advertisers assess and understand the environmental impact of campaigns by measuring carbon emissions and resource usage throughout the production process. Every aspect is considered, from the big ticket items like energy consumption and transport, down to the smaller pieces like materials and food.
The first key factor was to have all of this in mind at the creative ideation stage. There's no point trying to reduce the impact of your production and then putting the whole team on a plane to a far flung location. No problem there for the resourceful brains at Core.
Once we agreed that we would shoot locally, our production partners Wannabe and Element Post stepped in with a Sustainability Officer to keep us all on our toes. They went to great lengths to source all the right gear, including bio-fuel generators (no pedalling, thank goodness!). Everything was considered – lighting, wardrobe, catering, transport.
To be fair, this approach did throw up some interesting challenges, like how to ensure our cast were all relatively local, including a horde of children from the area around St Marys RFC, our shoot location, who descended on us mainly on foot and even those in cars at least didn't have far to travel, so keeping the emissions to a minimum.
In fact, we all managed to arrive at the shoot with minimal impact. The eco-taxis of Dublin had a great day for business and there were many walkers and cylists, some making their way from the far north side to Templeville Road. I even took my bike down from it's peg in the shed, dusted off the cobwebs and had a few lovely spins over the two days. We enjoyed delicious locally sourced vegetarian and vegan food and eliminated single use plastic by bringing our own water bottles and using eco-friendly coffee cups. Even the star of the show, Hugo Keenan joined in the effort.
Our goal for this project was to reduce the carbon footprint of our production by 70%. To put this into context, producing an advertising campaign which includes a TV shoot can generate up to 200 tonnes of CO2e (carbon dioxide equivalent).
Our final result was an incredibly low 1.63 tonnes, a 95% reduction in footprint!
We will offset this amount to get us to a net zero impact – the offset cost will be €19.88.
I'm so proud that we did what we set out to do and smashed our target. It proves that Marketing can play a significant role in the ESG journey of any organisation and that there are always ways we can improve our processes and reduce our impact.
I would encourage any brand or marketing team who are considering this to go for it. My initial apprehension was completely unfounded. The cost and general workload of the whole project was really no different to any other shoot we've done, with the exception of the locally sourced "ingredients" (child extras) who did present a little bit of a challenge to find, but nothing that Core and Element couldn't solve. In fact the whole project prompted plenty of healthy competition and banter among all of us as to who was being "greenest" and it has certainly made me think twice about some of my own choices, particularly for transport. The bike hasn't gathered any more dust since.
This project would never have happened without the determination of Clare O'Reilly and all the team at Core Creative, as well as everyone at Wannabe and Element Post. And I suppose that other guy, think his name is something Keenan?