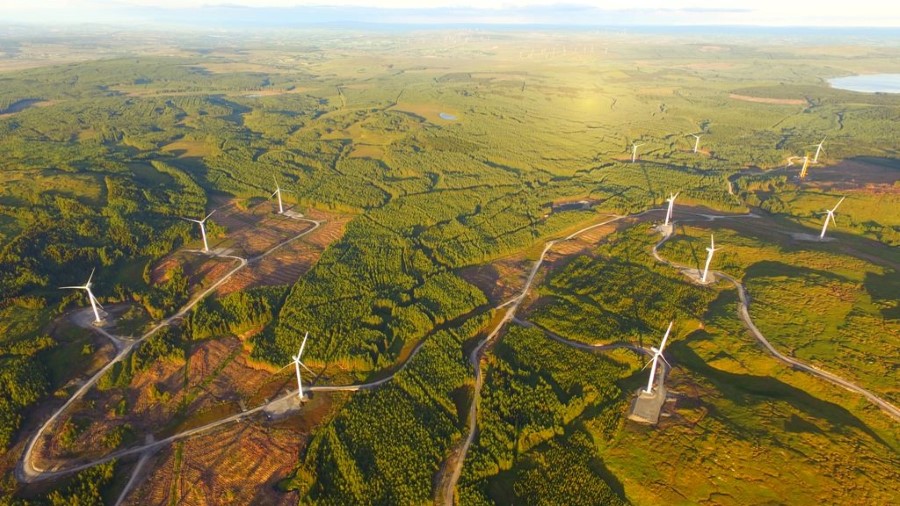 Technology is helping to power green energy generation, but consumers are the ones with their fingers on the switch.
It's a fact that is currently energising Gary Ryan, managing director of Energia Group Customer Solutions. The company is a top producer of renewable energy, accounting for 21 per cent of Ireland's renewable electricity generation.
Energia has been operating for more than 20 years here and began its commitment to renewables in 2002 with windfarms. Today, it owns and operates 300MW of wind farms in Ireland and has developed a further 1,000MW through power purchase agreements with other windfarm owners.
"Our core purpose is to transform how customers use and generate energy in a way that has a positive and sustainable impact on the environment," says Ryan.
"Previously, our core purpose was focused on competitively priced energy supply. While that's still important, our future focus is all about how we can help our customers generate and use energy from renewable sources."
As well as focusing on the generation of both on- and off-shore winds, Energia has planning permission for a number of solar farms it is now looking to develop, to help facilitate Ireland's Climate Action Plan target of having 70 per cent renewable energy by 2030.
"Climate change is on the agenda of all world leaders and economies"
Because renewable energy production is intermittent, the company is developing other solutions too, including battery storage technology, suitable for industrial and commercial applications.
Its bioenergy resource at Huntstown, Dublin, an anaerobic digestion facility, converts organic waste such as food waste into a methane-rich biogas used to generate renewable electricity and heat.
The company will even be powering hydrogen-fuelled double-decker buses in Northern Ireland, a major step in the North's bid to decarbonise its public transport to zero emissions by 2040.
With all these technologies proven, the challenge now is to "scale them up", says Ryan, who suggests the sector is at an important juncture, with a range of innovative new energy solutions set to emerge.
For example, the proliferation of home charging points for electric vehicles could see them used as residential energy batteries, which local windfarms could top up cheaply at times when there is excess power.
"It would mean we are solving a problem for the environment and solving an issue for the householder in terms of cheaper prices," he explains.
In time, residents with excess power could even sell it to neighbours who want it. "Customers are at the centre of all of this and play a huge part in making it work," Ryan says.
"We continue to develop exciting new digital solutions that will enable customers to engage in this new green opportunity"
Energia has been helping introduce its customers, both residential and commercial to the benefits of energy saving technologies for years, including through the installation of energy efficient lighting systems and energy management solutions to help them lower their carbon impact and save money.
It supports the retrofitting of low energy LED lighting systems at no upfront cost, but which are paid for over time through savings.
"One of the issues with such projects is always the capital cost of installation. Solutions such as these enable people to embrace them so they can make the change immediately," he says.
Smart meters are currently being rolled out by ESB Networks in homes and businesses across the country.
Customers can now choose a variety of new smart energy tariffs that suit their lifestyle, reduce their energy costs and their carbon footprint.
"Smart metering will allow us, in a GDPR-compliant way, to measure usage and use data to devise products that better match supply and demand. Not alone will smart metering do away with estimated bills but it will enable us to offer cheaper tariffs at off-peak times, incentivising people away from usage during peak demand times between 5pm and 7pm, for example," he says.
Clearly the future is bright for the green energy sector but there are challenges too, Ryan admits.
"Ireland has the potential to become a world leader in green energy technologies"
"All of this isn't easy to bring together. The intermittent nature of wind and solar requires the market to optimise the use and generation of energy. Technology will place a significant role in connecting customers to these new energy sources to optimise this experience in terms of convenience and price. We continue to develop exciting new digital solutions that will enable customers to engage in this new green opportunity," he says.
The target of 70 per cent renewable energy by 2030 is a challenge for the grid operator too. "The current grid was built to facilitate large power plants with predictable running patterns. Having all these new solutions, which operate intermittently, is a challenge for the grid operator, as is the issue of new connections to the grid," Ryan explains.
Green targets also require community buy-in. Engagement and participation by communities will be critical to green energy success.
Certainly, people understand better than ever the risks of climate change – including the risk of doing nothing. "People get it," he says. "Now we need to turn 'getting it' into action, but I do think there is a real appetite for this."
Indeed, he believes Ireland has the potential to become a world leader in green energy technologies, creating a high-value, knowledge-based industry with immense export potential.
"The whole world wants this problem solved. Climate change is on the agenda of all world leaders and economies," says Ryan. "Like the pandemic, we can see that climate change is a problem we can't fix in parts. We all have to do this together."
Article written by The Irish Times.